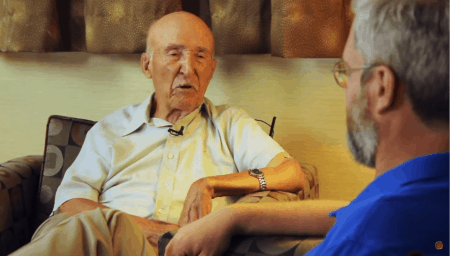 We have read the sad news that Ed Bearss, the renown Civil War historian, died today at the age of 97. Bearss has been called "a National Treasure" many times and he was truly a remarkable man. He served as a Marine in World War II, and was wounded in combat against the Japanese. You can read his dramatic account of that experience here. He lived with the effects of those wounds for the rest of his long life.
Bearss joined the National Park Service at Vicksburg. While there he discovered the wreck of the USS Cairo, the first ship ever sunk by a torpedo (which in the Civil War meant what we now call a mine). He eventually rose to work as Chief Historian of the National Park Service from 1981 to 1994, and after his retirement was appointed Chief Historian Emeritus. He led many battlefield tours to rave reviews, and was still conducting them until his health failed within the past year.
In 2012, while we were shooting our Battles of the Civil War DVD series, we had the honor to interview Mr. Bearss. We are thankful to have him appear in two episodes, Struggle on the Seas and Vicksburg. You can see one clip of this interview below. His unique and engaging story telling style added a lot to our project, as well as the many others in which he has been involved. Thankfully his work is preserved in many valued recordings. He will be missed.