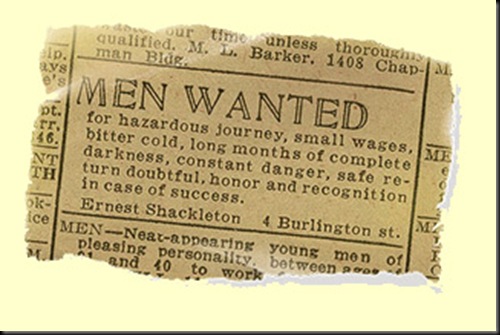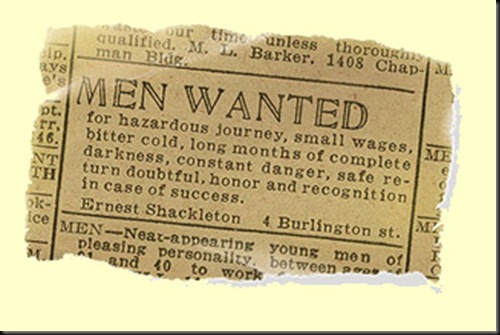 Many of you have probably seen the famous advertisement which, as the story goes, Ernest Shackleton ran in the newspaper to try to recruit men for his Endurance expedition:
Men wanted for hazardous journey. Low wages, bitter cold, long hours of complete darkness. Safe return doubtful. Honour and recognition in event of success.1
This advertisement is one of the most famous in history. It is frequently quoted as one of the best examples of copy writing, and has been quoted many times, in books covering topics all the way from Introduction to Evangelism to Web Application Defender's Cookbook, and even printing on tee shirts.
However, the origins of the ad are very obscure. No one has actually seen the ad printed in a newspaper, though the Antarctic Circle has a $100 reward out for anyone who can find it, a reward which has not yet been claimed. They have also gathered a lot of information about the ad, the basis for much of this post.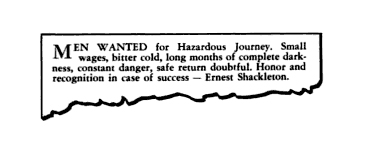 One of the first books for this ad to appear in was The 100 Greatest Advertisements: 1852-1958 written by Julian Watkins in 1949. The brief accompanying text says the ad was run in London newspapers in 1900, but does not give a footnote. A brief review of Shackleton's life will reveal that he did not sign on with Robert Scott for his first expedition until 1901, and he did not lead his own "hazardous journey" for several years. The date is clearly wrong, making far from an auspicious beginning for the truthfulness of the ad. Other biographies of Shackleton give the date as December 29, 1913, and the paper as the London Times. However, the ad does not appear in this paper. The date seems to have been confused with when Shackleton announced his Nimrod expedition in a letter to the editor:
Sir,–It has been an open secret for some time past that I have been desirous of leading another expedition to the South Polar regions.
I am glad now to be able to state that, through the generosity of a friend, I can announce that an expedition will start next year with the object of crossing the South Polar continent from sea to sea.
I have taken the liberty of calling the expedition "The Imperial Trans Antarctic Expedition," because I feel that not only the people of these islands, but our kinsmen in all the lands under the Union Jack will be willing to assist towards the carrying out of the full programme of exploration to which my comrades and myself are pledged.
Yours faithfully,
ERNEST H. SHACKLETON2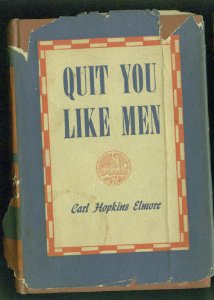 Although The 100 Greatest Advertisements is the book most commonly referenced in biographies of Shackleton, the ad had appeared in print before. It can be found in Quit You like Men by Carl Hopkins Elmore in 1944, five years before The 100 Greatest Advertisements was published. Elmore says:
Sir Ernest Shackleton when he was about to set out on one of his expeditions, printed a statement in the papers, to this effect: 'Men wanted for hazardous journey to the South Pole. Small wages, bitter cold, long months of complete darkness, constant danger. Safe return doubtful. Honor and recognition in case of success.' In speaking of it afterward he said that so overwhelming was the response to his appeal that it seemed as though all the men of Great Britain were determined to accompany him.3
This book provides no footnote for the ad. One thing should be noted – honor is not spelled in the American style, rather in the English, as "honour." Not only was this the normal English spelling, Shackleton himself used it in his books.4 This evidence seems to show that either the quote was fabricated by Carl Elmore or one of his sources, or that it was copied in a very sloppy fashion.
Not only can no references be found to an original source, searching the Times itself leads to nothing. The months covering Shackleton's preparations for his expeditions have been read, and the rest of the paper programmatically searched, but both methods have come up empty. It would not have even made sense for Shackleton to place an ad in the paper. There was plenty of free press coverage of his expedition, and he would already have had plenty of men to choose from. Some of the descendents of his men remember being told their ancestors responded to an ad Shackleton placed in the paper, but this was likely a recollection based on reading the ad rather than something they were actually told. Frank Worsley, one of the crew members, wrote his memoirs and did not record seeing an ad, instead he just happened upon the expedition's offices and decided to apply. Inspiring though it may be, it seems that Shackleton's famous ad is mostly likely a myth.
1. The 100 Greatest Advertisements 1852-1958: Who Wrote Them and What They Did by Julian Lewis Watkins (Mineola, NY: Dover Publications, 1949) p. 1.
2. Shackleton: An Irishman in Antarctica by Jonathan Shackleton (Madison, Wisconsin: Univ of Wisconsin Press, 2002) p. 137-138.
3. Quit You like Men by Carl Hopkins Elmore (New York: Charles Scribner's Sons, 1944) p. 53.
4. South: The Story of Shackleton's Last Expedition, 1914-1917 by Sir Ernest Henry Shackleton (Toronto, Canada: The Macmillan Company, 1920) p. xii, 144.