Join us on our 2015 Massachusetts Tour to study important sites related to the War for Independence and the founding of the United States. We begin at Plymouth, where the Pilgrims landed and established many of the Biblical principles that are the foundations for our county. We continue the tour in Boston, a city that proved critical to the Revolution. We continue on with the War for Independence, visiting Lexington and Concord, where the war began, as well as Saratoga, one of the great disasters for the British forces. The tour concludes with a visit to the home of the Adams family, some of the founding fathers of our country.
Information
Dates – September 7-12, 2015.
Prices – As usual, the price just includes costs. If it turns out to be significantly lower, we will refund the difference.
Adults – $265
Children 16-18 – $240
Children 6-15 – $230
Children under 5 – $200
Young children not requiring a bus seat are free
Deposit of $50 required by July 31 to reserve your place. Payment in full due by August 31.
You can pay using the booking section later on this page. In the checkout process you will have the option to pay credit card or mailing a check.
Includes – All admissions, transportation beginning at the hotel in the Boston area, all lunches and one or two dinners. Breakfast will be included with the hotel.
Hotel – We are still in the process of finding a hotel for the tour. We will be in one hotel for the entire week. This is where the tour will begin and end, and where the motor coach will leave from each day. We expect it to be 20-60 minutes outside Boston. It should be $90-100 a night, accommodating 5 people per room.
Book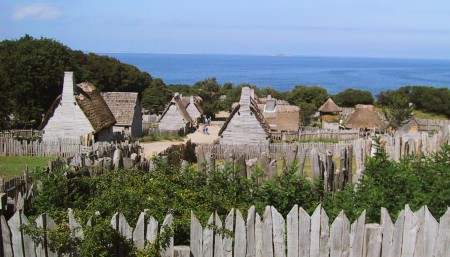 Schedule
Monday, September 7
8:00 – Leave
9:00 – Mayflower
10:00 – Plymouth Monuments
12:00 – Leave
12:15 – Plymouth Plantation
4:30 – Leave
5:30 – Hotel
Tuesday, September 8
7:45 – Leave
8:15 – Boston
Copp's Hill Burying Gound
Granary Burying Ground
King's Chapel Burying Ground
Old State House
Old South Meeting House
5:30 – Dinner on own in Boston or Leave for Hotel
8:00 – Leave for Hotel
8:30 – Hotel
Wednesday, September 9
8:00 – Leave
8:30 – Boston
Old North Church
Paul Revere House
12:30 – Leave
1:00 – Lexington
Lexington Green
Hancock-Clarke House
Buckman Tavern
Munroe Tavern
3:30 – Leave
3:45 – Concord
5:30 – Leave
6:00 – Hotel
Thursday, September 10
8:30 – Leave
9:00 – Bunker Hill Monument
11:00 – Leave
11:30 – USS Constitution
Lunch
1:30 – Leave
1:45 – Massachusetts State House
3:45 – Leave
4:00 – Longfellow House/Washington's Headquarters
5:30 – Leave
5:45 – Dinner
9:00 – Hotel
Friday, September 11
7:45 – Leave
9:00 – Springfield Armory
10:30 – Leave
12:30 – Bennington Battlefield
2:00 – Leave
2:45 – Saratoga Battlefield
5:00 – Leave
6:30 – Dinner
7:30 – Leave
9:00 – Hotel
Saturday, September 12
9:00 – Leave
9:30 – Adams National Historical Park
United First Parish Church
11:30 – Leave
12:00 – Lunch
Map
Contact